Autopia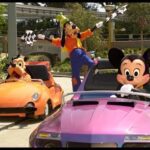 One of the most popular attractions for both adults & children is the Autopia speedway at Disneyland Paris. Situated in Discoveryland, this huge track & viewing area really excites visitors to the park.
The ride consists of 60 petrol powered "futuristic" cars which YOU drive through the futuristic freeways of Discoveryland. You can really feel the engine power as you press the accelerator as we experience the "future" as seen from a 1950's perspective.
Each car can hold 2 riders, a driver & a passenger, as you take a leisurely drive around the beautifully scenic motorway. There are hills, turns, curves, bridges & even traffic lights as you enjoy being transported around the track.
The exact speed of the cars is a Disney secret & the engines are regulated, but the general consensus is that they have a maximum speed of around 10mph. The speed signs around the Autopia circuit read 6.5mph (to reflect the actual speed in real life of 65mph). The cars are also fitted with spring loaded bumpers for safety & drivers are encouraged to drive safely.
The drive around Autopia lasts around 5-9 minutes & the Disneyland Paris cars have a unique toy-like feel to them. The Autopia cars also come in a range of colours like yellow, red, pink, blue black & purple to name a few. This attraction can also be found in other Disney Parks around the world with the names Tomorrowland Speedway or Grand Circuit Raceway.
Autopia Photo point
Just before the entrance to the Autopia ride at Disneyland Paris there is a photo opportunity for you to sit inside a static Autopia car with the Autopia ride in the background. As there is no on-ride photo (something fans have been asking for years to include) this is a perfect way to memorialise that magic journey.
There are also plenty of viewing areas around the track to take pictures including a viewing area beside the queue area which has lots of comfy stools to sit on while you await your friends to pass by on their drive.
There are some restrictions on this ride. To be able to drive the Autopia vehicles you must be at least 132cm to drive alone or at least 81cm to drive if you are accompanied by an adult. If you are pregnant or have any neck or back issues then it is advisable not to ride as you never know how good the driver behind you are & there are frequently the odd bump from behind.
---
Autopia Tips

The queue for this ride can be quite long but the best time to ride is early in the day before cars start to wear out or be taken off the track due to malfunction

The word Autopia comes from the shortening of the words Automobile Utopia.

Although the cars are fitted for 2 persons you can drive alone by letting the Cast Member know just before being asked to board.

Although the colour of cars is random as they join the track, if you prefer a certain colour (Girls love pink!) then just ask the Cast Member and they will put you on the next available colour of your choice.

---

Autopia Video