Cars Road Trip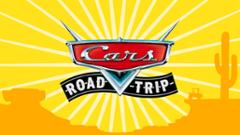 Cars Road Trip is one of the newest attractions at Disneyland Paris. The ride officially opened in June 2021. Fitting in perfectly with the Cars Race Rally ride at Walt Disney Studios, you will be sure to love this highly themed attraction.
Of course the theming comes from Disney Pixar's much loved CARS franchise featuring Lightning McQueen & friends!
Those of you who visited the park prior to 2021 will know & love the premise of this attraction which was formerly used as the Studio Tram Tours attraction.

Who Loves Road Trips?
We all do! Buckle up & get ready for the road trip of your dreams as Sally Carrera & Cruz Ramirez guide you along the famous Route 66 highway. Make sure to have your camera ready as there will be a lot of great sightseeing along the way. Boasting an impressive 168 passengers per ride vehicle, this is an attraction which will see thousands upon thousands of guests per day.
The ride is split into 3 unique areas :
First stop: A nutty roadside attraction – Snap a pic and don't forget to wave to Lightning (Flash) McQueen, Luigi, and Guido at the World's Largest Lugnut.
Second stop: Power shower! There's nothing like a natural carwash in a flash flood for some extra shower power. See how a huge water tanker likes to shake up his cleaning routine in Cars-tastrophe Canyon.
Final Stop: An Artistic Mater-piece! Mater is well known for his impressive junkyard creations. Today he's debuting his latest Mater-piece– can you guess what it is? Honk if you love this motor monument!
There are so many photo opportunities & sights to see that this leisurely road trip is one you will want to do time & time again. Get ready to witness "The Ghost Garage", "Copper Canyon Traffic Maze", "Lonestone Magnet Mine", "The Eiffuel Tower", "The Great Whitewall of China" & " The Statue of Lizziety"!
Cars Road Trip Tips

The best view of each scene is from the very centre of the tram but you may need to ask a cast member if you specifically want to be seated here.

This attraction can have fairly high wait times throughout the day but if there is a parade on or the seated shows around Disney Studios are about to start you can get on much quicker.

Very young children who will not appreciate large bursts of fire or heavy waterfall effects  should be seated away from the edge of the tram.