Studio Tram Tours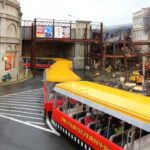 One of the largest rides at Disneyland Paris is the sprawling Studio Tram Tours ride in Walt Disney Studios. This tour takes you behind the scenes and on to film sets to show you an explosive action scene.
After taking a walk down Hollywood Boulevard toward the iconic Hollywood sign we are faced with the entrance to Studio Tram tours. This attraction is one of the best loved rides in Disneyland and a hit with all ages.
Filled with model sized and actual sized props from famous movies such as Star Wars, Dinotopia, 101 Dalmations, Toy Story, Reign of Fire and many more, you can be sure to see some familiar pieces as you take a leisurely tram ride throughout the backlot of Walt Disney Studios.
The ride is split into areas with 2 highlight scenes where the tram will stop while we view a working studio scene full of special effects. We start off by boarding one of the trams which has just pulled into the station. These trams can seat up to 168 guests at a time.
The 2nd stage is driving through some scenery where we see some movie props from famous films by the roadside. Then we move on to what is undoubtedly the best part of the tour – Catastrophe Canyon! Here we see a demonstration of a working studio lot featuring rain, smoke, fire, an explosion and a massive flooding of the area. It really is a magnificent event which really makes you feel part of the scene.
For the third part we are again seeing more movie props from famous films before we head to the 4th scene. Here we enter a large scale mock-up area of London complete with underground station, railway bridge and a building site area. This set is taken directly from the 2002 Disney movie "Reign Of Fire" starring Christian Bale & Matthew McConaughey. Again there is fire as we pause for a short action sequence before heading back to the station…….. but not after again seeing some more movie props in the name of a motor vehicle show.
---
Studio Tram tours Tips

The best view of each scene is from the very centre of the tram.

This attraction has fairly high wait times throughout the day but if there is a parade on or the Stunt show is about to start you can get on much quicker.

Very young children who will not appreciate large bursts of fire should be seated away from the edge of the tram.
---
Studio Tram Tours Video
---