Peter Pan's Flight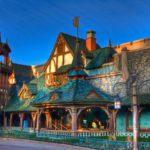 Peter Pan's Flight is a family ride suitable for all ages situated in the Fantasyland area of Disneyland Paris.
This is one of the most popular rides at Disneyland Paris and the queues are always long. Thankfully it is one of the few rides which allows Fastpass access for this very reason. Peter Pan's Flight is a dark indoor ride which let's you set sail for Neverland inside your very own mini pirate ship.
Of course the pirate ship is able to fly high above the glorious scenes below. this attraction is unique in that you not only have scenes on either side but also below you! There are 11 scenes in total throughout the ride, 2 of which are below you. Of course, you will also be treated to the musical score of "You Can Fly" as you ride.
Peter Pan's Flight storyline
You begin by boarding your magical flying Pirate Ship Galleon (2 rows of 2 seats although you can squeeze 3 on the back row). From there we are taken on a magical journey beginning inside the Darling household just like in the movie.  Here we first meet Wendy, Michael, John & of course Peter himself……… & his shadow! We then leave through an opening window and out over the skies of London.
Now we are treated to aerial views of the city below at night-time. We are now flying high above the twinkling lights of the houses below & through past Tower Bridge & the iconic scene of Big Ben rises from the floor area.
We begin to see our next destination as we follow the Second Star to the Right & head towards Neverland itself. We can now see shimmering waterfalls & volcanic mountains. This is our first sight too of the Lost Boys, Mermaid Lagoon & of course Skull Rock. It is then that we begin to see the story unfolding as we swoop into Pirate's Cove & see Peter duelling with Captain Hook. There are some memorable scenes including Smee, the Crocodile & the blue Fairy as we return home to London.
---
Peter Pan's Flight Top Tips

Although Fastpasses are available, due to popularity these can run out so try and get them early in the day.

Alternatively, ride duringExtra Magic Hours when queues are much shorter.

This is a family ride for all ages & lasts approximately 3 minutes

If you have small children who are dressed as a character from Peter Pan then try & catch the eye of a Cast Member who occasionally let you jump the queue and go straight on!

---

Peter Pan's Flight video