Adventure Isle at Disneyland Paris
Adventure Isle is situated in Adventureland & encompasses a very large area which has many features to explore & discover at your leisure. As part of Adventure Isle at Disneyland Paris there are many attractions to choose from. You can cross the large rope suspension bridge, climb aboard a full size Pirate ship or even trek the dizzy heights of the Robinson Family Treehouse.
This is one of the most beautiful & lush landscapes in the whole of the Disneyland Park is my own personal favourite area to get a great photo. With Skull Rock, The Pirate Galleon & the magnificent lagoons it really is a lovely way to spend a few hours. There are so many paths & walkways to explore that you will be in awe. Where else can you cross a rope suspension bridge (Pont Suspendu), descend through caves to find Davy Jones Locker & treasure?
Adventure Isle has some excellent photo opportunities with one of my favourites being to take a picture from BEHIND the waterfall whilst walking through the caves.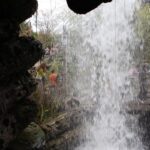 Once you have found your way out of the caves you should take a trip up Robinsons Treehouse. The views from the top are spectacular & you can see the whole of Adventure Isle & beyond.
It's not only a beautiful walk during the day because at night the wonderful area at Adventure Isle really shows what the magic of Disney is all about.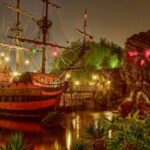 As nightfalls & the sun goes down we begin to see the light from the hanging lanterns throughout the area which guide you through the walkways & really make you feel as if you are in a whole different time. In the evenings Adventure Isle becomes very quiet as most day visitors tend to leave the parks & this is the best time to visit the area if you want a nice relaxing & atmospheric evening.
Adventure Isle covers a vast area of almost 8,000 square metres with up to 15 bridges in operation at any one time (depending on maintenance). Although Adventure Isle itself is not a specific ride in itself it really is a breathtaking place for anyone to see. There are plenty of hidden extras for you to see (which I won't spoil by telling you about all of them) but the main points of interest are :
Pirate's Beach – Pirates themed playground for children. Maximum height is 1.40m. Great spot for younger children to let off that built up energy!
Captain Hook's Pirate Ship – Located beside Skull Rock you can climb aboard & take command…….. but be careful as Hook can appear at any moment!
Swiss Family Robinson Treehouse – This majestic building is situated high in the Banyan Tree. The views from the top are epic & the story of the Swiss Family Robinson is a must see.
Skull Rock – The iconic Skull Rock offers a brilliant photographic background in all weathers. In the evenings, depending on the angle you are approaching, the lanterns inside can make it look very spooky as if it's eyes are lit up & watching for stray buccaneers
Rope Suspension Bridge – Are you brave enough to cross the rickety wooden bridge? Of course it's perfectly safe but you will have butterflies in your stomach if someone jumps up & down while you cross!
---
Adventure Isle Top Tips

Visiting in the evening is very different from visiting during the day. The whole atmosphere changes & the area is less busy.

If you have young children or dependants then please keep them close in this area as there are multiple paths & cave areas where they may become lost.

Look for hidden characters from movies such as "The Lion King & Up" in amongst the foliage or on the banks of the lagoons.

---

Adventure Isle Video