Swiss Family Robinsons Treehouse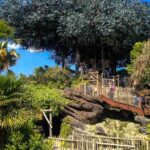 The Swiss Family Robinsons Treehouse attraction at Disneyland Paris is situated in the Adventureland area. The treehouse is on the Northern Island of Adventure Isle & is an exploring walkthrough attraction for all ages. The French name for this ride is "La Cabane Des Robinsons".
The attraction itself is based on the popular Disney Movie "Swiss Family Robinson" & is of course a huge treehouse & cellar complex towering high above Adventureland. The walkthrough starts at ground level, just beyond the Robinson's shipwreck in Pirates bay. You climb a series of intricate & detailed walkways & stairs before visiting the rooms of the Robinsons family home. The attention to detail is superb with many artefacts on show.
We begin to see the kitchen area, bedrooms & a library all filled with ornate items which the Robinson Family managed to salvage from their shipwreck. They even managed to save the ship's wheel! The pinnacle of this adventure comes when you reach the top of the treehouse & visit the lookout area. Here visitors are presented with a stunning view of Adventureland and far beyond. A picture perfect scene.
---
Swiss Family Robinsons Treehouse Tips

There is usually no wait times to visit this attraction

The walkthrough will take approximately 15 minutes from start to finish.

Although it is a gentle walk, please bear in mind that there are stairs although there are plenty of spots to rest.

The walkways are all netted to prevent anyone falling but please take care with over excited little adventurers who may like to climb the nets!
---
Swiss Family Robinsons Treehouse video