Storybook Land Canal Boats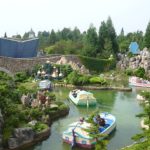 Storybook Land Canal Boats is given the French name of "Le Pays des Contes de Fees" for this enchanting family ride. Visitors to the Storybook Land area will see one of the most picturesque areas in the whole of Disneyland Paris.
The Storybook Land Canal Boats seat up to 15 people at a time. You will sail off on a voyage through miniature lands created from classic literature with dazzling scenery. With imaginative landscaping in miniature detail, musical scores from each fairy tale & special lighting effects around the charming villages & homes.
Looking up you will also see Casey Jr Circus Train on the tracks above while you admire the intricate detail of the stories unfolded before you.
Storybook Land Canal Boats scenes
There are many stunningly ornate lands in miniature replica form. All areas are made to a 1/12th scale to life. The detailing is so exact that even some of the doors on the buildings can open & close.
Diamond Mine & Dwarfs Cottage – Snow White & the 7 Dwarfs
Gingerbread House – Hansel & Gretel
Rapunzel's Tower – Tangled
The Old Mill
Prince Eric's Castle & a harbour scene – The Little Mermaid
Mount Olympus – Fantasia
Snow Covered Landscape & Forest – Peter & the Wolf
The "Night on Bald Mountain" scene – Fantasia
Cave of Wonders – Aladdin
A scene from the Sword in the Stone
Belle's Village & Beast's Castle – Beauty & the Beast
The Emerald City – Wizard of Oz
The Witches Castle – Return to Oz
---
Storybook Land Canal Boats Tips

Try to ride early in the day as this ride can close in inclement weather or as soon as night begins to fall.

Passengers board on a moving walkway so please be careful with young children

This ride lasts a whopping 7 minutes so is an ideal way to take the load off your feet!
---
Storybook Land Canal Boats Video