Casey Jr Circus Train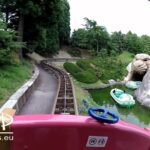 "I think I can, I think I can…." is the voice you will hear as this quaint little circus train departs the station and makes it way up the hill to take you on a tour around & over the storybook Glen.
Casey Jr Circus Train is a short coaster based train journey which is perfect for kids & big kids alike! It isn't actually a coaster though as it derives it's power from a small engine throughout the ride. The iconic train is featured in the movie Dumbo & features it's own soundtrack from the movie with the classic "Casey Jr is coming down the track" song played on a loop.
The Casey Jr Circus Train starts in it's station before pulling away and circling over Storybook Land below whilst circling the miniature castle & giving lovely views of the tiny fairytales below. The train offers a swift 2 minute ride which will get the wind into your hair and thrill the little ones.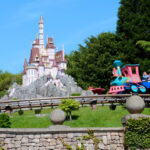 The Casey Jr little circus Train is made up of a number of carriages from the hit movie Dumbo. They are Casey, a calliope car, a pink open-top chair car seating 4, a monkey and wild animal cage, another open-top chair car painted blue, and a caboose. Strangely the 1st carriage of Casey does not actually house the engine which pulls the train along at a brisk pace. The actual engine is in the 2nd calliope car carriage.
---
Casey Jr Circus Train Tips

The ride closes early on most days as Fantasyland begins to wind down in preparation for the nightly fireworks show so riding as early as possible is recommended

This is a perfect way to introduce very small children to rollercoasters as it is a gentle ride with small ups, downs and curves.

If you have a particular carriage you wish to ride then just ask a Cast Member at the station

If you want a new experience then ride in the Caboose carriage at the back as this carriage has seats facing backwards!

---

Casey Jr Circus Train Video