Rainforest Café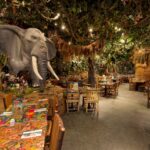 Rainforest Café is situated in Disney Village at Disneyland Paris. This is one of the most highly themed restaurants at Disneyland Paris & a huge hit with kids & adults alike.
Join the expedition deep into the heart of the Amazon where you will dine surrounded by exotic animals, birds & even fish! Every few minutes a "thunderstorm" rolls in & the sound of rumbling thunder accompanied by lightning & the soothing sound of rainfall passes by.
The animals on display are fully functioning animatronics which move & make sounds throughout your meal. This is more than a restaurant…. this is an experience! Once you have finished your meal you can visit the Rainforest Café shop to pick up a plush toy or tropical trinket to memorialise your visit.
Check out the Rainforest Café menu below (prices 2019) – prices & menu items may have changed so please use this only as a guide :
Rainforest Café Menu
Cocktail & Drinks Menu

Starters to Share
Salad

Burgers
Main Courses & Pasta
Desserts & Birthday Cakes
CHA CHA Set Menu – €23.99

---