Annette's Diner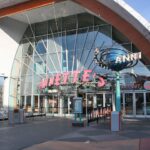 If you remember the U.S sitcom "Happy Days" featuring "The Fonz" then you will recognise this diner. Annette's Diner is themed to a classic 1950's American Diner from the golden age of Rock 'n' Roll. Located opposite Planet Hollywood in Disney Village you can't miss this iconic Disney restaurant.
Open throughout the day, Annette's Diner has become a firm family favourite for their American breakfast offerings. In the afternoon we begin to see guests literally queuing up at peak times to enjoy the huge portions.
Annette's Diner's menu features a whole range of burgers, hot dogs, deluxe milkshakes & all-American desserts to throw you into the era of The Twist, Harley Davidsons, Be-bop & Elvis!
If you are fortunate you may even be served by waiting staff on roller skates!
Annette's Diner Menu
---
Annettes Diner Menu

---
Annette's Diner Video
---
---