The Steakhouse Menu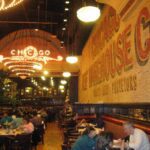 The Steakhouse is a fine dining experience located in Disney village at Disneyland Paris. Expertly themed to be a warehouse turned into a Gentleman's club in 1950's Downtown Chicago. With a Jazzy atmosphere & high class menu, you will love to kick back & enjoy the delights on offer.
As one of the more discerning restaurants in Disney Village, advance booking is recommended. The prices are high but so is the service & the food on offer. You can get the tastiest grilled steak cooked just the way you like!
It's not all steak on the menu though so this restaurant appeals to a broad range of guest. One thing to note if you like your steak well done is that French chefs generally cook their steak much rarer than Americans or UK visitors so it is advisable to add at least one level of heat on to your order. i.e if you want Medium then ask for Medium-well or well done!
The Steakhouse Menu