September 2022 Disneyland Paris Family Trip Report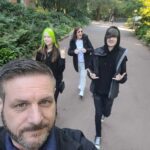 Our family consists of myself, my wife and our 2 children who are 14 and 18 years old. Our 18 year old has Autism but absolutely comes out of shell on trips to Disneyland Paris. It's a beautiful thing to see for us.
We stayed in Disneyland Paris for 3 nights and 4 days from September 20th to 24th 2022. It was an amazing family holiday in Disneyland Paris with so many amazing experiences, great food and magical memories.
I hope you enjoy our trip report and it helps you and your family make the most of your stay.
Travelling to Disneyland Paris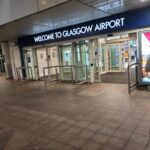 We travelled from our home in Scotland to Disneyland Paris with EasyJet flying from Glasgow. Our flights were straightforward and had really good flight times which meant we arrived early on day one and flew home very late on our last day. This allowed us to maximise our Disney park time and really make the most of our family holiday.
We landed in Charles de Gaulle airport at around 10am and were picked up swiftly by our private transfer company rstransports.com.
It took around 45 minutes by car to Campanile Val de France hotel. The return journey was just as easy.
Our choice of Disney hotels
As said, we were doing a split stay this time as we really wanted to get the most out of our family holiday to Disneyland Paris. On this trip we had a split stay over 3 different hotels including the Campanile, Disney Sequoia Lodge and finally the stunning Disney Newport Bay Hotel.
Campanile Val de France hotel
We chose Campanile Val de France hotel as it is just a short 10 minute shuttle (this is free and every 15 minutes) to Disney Village. The Campanile hotel is great value and an excellent base to see the area. The rooms were clean and modern. Our family room had a double bed, single bed and also a set of bunk beds. The breakfast was continental buffet style and we enjoyed our one night here.
Disney Sequioa Lodge Hotel
Our second night was spent in the Disney Sequoia Lodge hotel which was absolutely beautiful. If you can imagine a woodland retreat with a hint of "Bambi" theming then you are on the right track. The lodges are gorgeous and you would think you were in the middle of a huge forest! Staying here gives you an immediate sense of relaxation after a busy day in the parks. The breakfast buffet was delicious with hot and cold selections including sausages (vegan), bacon, scrambled eggs, Cereals, fresh fruit, cold meats, breads, pancakes and of course Mickey Waffles with syrup! We would highly recommend this hotel if you want something relaxing, warming and close to the parks. Our family loved it!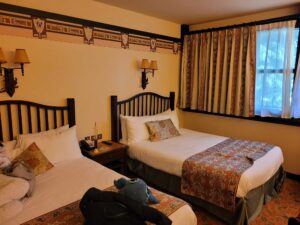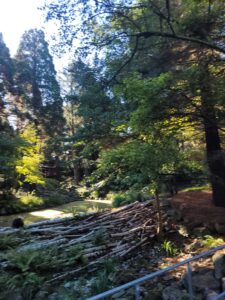 Disney Newport Bay Hotel
For our last 2 days we moved to the 4 star Disney Newport Bay Hotel. This is an iconic hotel overlooking Lake Disney and just a short walk to the parks through Disney Village. It has a nice nautical theme and really looks and feels a bit more luxurious than your standard hotel. You could be forsaken for thinking you were on a posh cruise ship! I would recommend getting a lake view room as they are stunning. Our room was well themed and the walk to and from the parks was just a few minutes. Breakfast was tasty and similar to the Sequoia Lodge. You can even book room service breakfast if you want a lie in or just have that luxury experience! The swimming pool is amazing and our family enjoyed a dip in the early evening.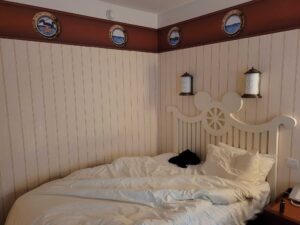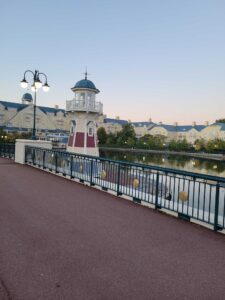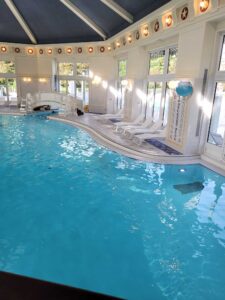 Family fun in the Disneyland Paris parks
We had 3 full days in the parks. Our son has Autism and can become overwhelmed at times but we applied for a Priority Pass for those with a disability which was very straightforward and really helped us enjoy our time in the parks. We have been to Disneyland Paris on numerous occasions before so know our way around. If it's your first time then I highly recommend you plan in advance as there is so much to see and do. Unfortunately our daughter became unwell on the second day so we limited our time to let her rest but still accomplished everything we wanted in terms of rides and shows.
Our favourite family ride is Twilight Zone : Tower of Terror and we rode about 6 times!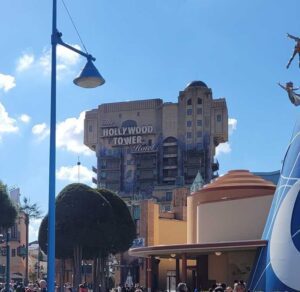 We were lucky to see the decorations for Halloween season beginning to emerge around the main park and it really created a buzz for us. Wait times were never too large on most rides and the weather was great. Our family love Frontierland area in Disneyland Paris and especially with the Halloween theming.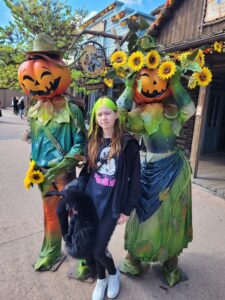 Big Thunder Mountain was awesome as usual and Phantom Manor beckoned us a few times too. Hyperspace Mountain was thrilling as ever and Star Tours took us on a fantastic journey to the stars. Our family also love to just wander around Fantasyland and do the classic rides. You are never too old for Pinocchio, Peter Pan, Snow White or Casey Jr!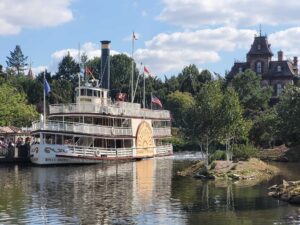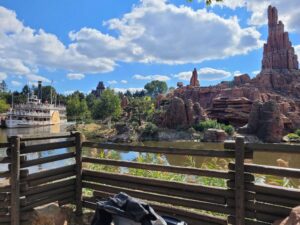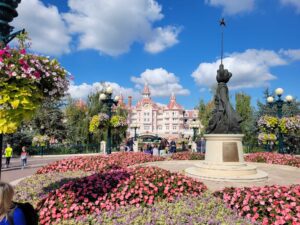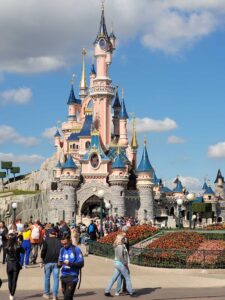 MARVEL Avengers Campus
Of course the highlight of our family trip this time was our first look at the newly opened MARVEL Avengers Campus. IT WAS UNBELIEVABLE! Disney have really stepped up the game with this new area and we loved everything about it. There's such a buzz in the air anytime you walk through Avengers Campus as Superheroes can appear from nowhere and put on an amazing show. We were lucky enough to spot Captain America, Captain Marvel, Wasp, Warriors of Wakanda and of course…. Spider-man and Ironman!
There are 2 new rides to discover too with Spider-man : W.E.B Adventure and Avengers Assemble : Flight Force. Our family absolutely loved both rides and the technology that went into Spider-Man W.E.B Adventure was awesome. It is a family friendly ride where you shoot webs from your wrists just like Spider-Man to defeat the Spider Bots who are taking over the land. Everyone riding gets a score and you can see if you top the leaderboard on the way out. Avengers Assemble : Flight Force is a rollercoaster where your mission is to assist Iron Man and Captain Marvel save the world. This is a thrill ride which isn't for the feint hearted! Inversions, super fast launch and drops all give you the idea of flying through the sky just like a superhero on a mission. We can't wait to return to ride this again and again.