The Voyages of Pinocchio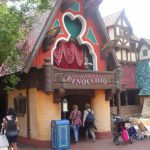 Les Voyages de Pinocchio translates to The Voyages of Pinocchio in English & is an indoor family ride. The ride is situated in the Fantasyland area right next to Snow White & the 7 Dwarfs.
This is a dark ride but is fun for all the family. The Voyages of Pinocchio ride was of course themed upon the iconic Disney animated movie. The wooden cars which you are seated in can seat 6 guests per vehicle with 3 on the front & 3 slightly higher up in the back seats.
This area of the park is very scenic & reminiscent of all fairy tales with a strong European medieval theme. Wait times can be long at timeds for this popular attraction mainly due to it's very prominent location.
The Voyages of Pinocchio Ride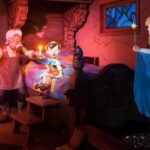 Guests begin the journey by boarding one of the special wooden cars & enter Stromboli's marionette show. We see Pinocchio dancing  & singing along with 2 puppets. Jiminy Cricket warns us to "Watch Out!!" but it's too late as Stromboli puts Pinocchio into a cage & drives off. The car continues on through the Pleasure Island amusements scene. Guests see Lampwick being turned into a donkey as the Coachman cracks a whip. All of the other children who have become donkeys are placed into cages.
The journey continues "To the Sea" as we see seagulls & Monstro appears! Our car continues to swerve & jolt. We start to see a star shining & hearing the classic tune "When you Wish Upon a Star" which signifies Pinocchio turning into a real boy. Finally we are back at Gepetto's workshop with a real life Pinocchio & all the items in the workshop are alive!
---
The Voyages of Pinocchio Tips

Although suitable for all ages it is worth noting that there are some scenes which very young children may be scared of but it's all over quite quickly & fun begins again

As the cars are on 2 levels it is best to have larger riders in the back so that small children get a good view from the front below seats.

After you exit the ride there is a merchandise outlet selling many Pinocchio themed items not available elsewhere in the park.

If you really love Pinocchio then there is a Pinocchio themed restaurant just around the corner too! Au Chalet de la Marionette is a quirky counter service.

---
The Voyages of Pinocchio Video