Alices Curious Labyrinth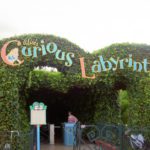 Alices Curious Labyrinth is a large walkthrough attraction in Disneyland Paris situated in the Fantasyland area. Featuring an array of dead ends, colourful floral displays, crazy water jets & characters jumping out from the famous Disney movie.
The mazes can be completed in around 20-30 minutes but may take a little longer if you fall into the traps laid out which lead to dead ends! Don't worry though, you are never far from the correct path & it is easily manageable for kids to find their way even from a very young age.
Queen of Hearts
The Queen of Hearts guards the maze & will try to put you off the correct path. Under, Over, This way, That way or Up & Down! Kids really love this attraction & the dancing water fountains are brilliant for cooling off on hot summer days……. if you can catch them! This attraction used to be unique to Disneyland Paris but since the opening of the Shanghai Disney Parks you can also visit this attraction there.
The major difference between the parks is that Shanghai have opted for the more modern "Tim Burton" characters whereas Paris have opted for the classic characters from the original Disney film. The maze leads to the Queen of Hearts castle in the centre where you can climb her tower and get a breath-taking view of Fantasyland.
---
Alices Curious Labyrinth tips

Visit in the early afternoon as this attraction occasionally closes early before 5pm

There are many photo opportunities inside the maze so try & keep together to capture them!

The view from the top of the Queen of Hearts castle is amazing & is a great place to people watch or get a stunning photo of Fantasyland from above

There are very rarely any queues to go on this attraction

The maze is almost 400m long although there are opportunities to sit along the way.

---
Alices Curious Labyrinth Video