Jodie August 2022 Trip Report
Arrival Day
Home after a fab 4 night break. We tagged it on to the end of our camping trip in the Netherlands. We choose to stay in Hotel Campanile and bought 2 single day/single park tickets.
We arrived Wed and had a lovely evening walking around Disney Village. We had pizza and chips meals in the café next to the sports bar. Reasonably priced and OK quality.
Day one – Walt Disney Studios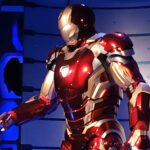 Thursday we spent the whole day in Disney Studios.
We headed straight for Avengers Campus when we entered at 9.30am and onto Web slinger within about 25 mins.
Next up for us was flight force and a parent swap (which has worked great for us and is so efficient).
Avengers Campus Top tips & highlights
* If you want any chance of doing the training you have to be super quick to even get on the virtual queue list. We missed out on this but enjoyed seeing Spiderman leaping around the roof tops & Wakanda Warriors show.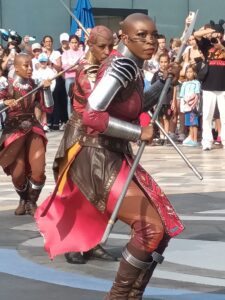 * We ate in Stark Factory sharing a pizza and pasta. Better quality than the village pizza, but more expensive. 1 Pizza slice, 1 portion of pasta and 4 drinks costing €43 but was a fair size to share between 2 adults and 2 low appetite children!
* Kids loved the Stitch Live! show
* Tower of Terror scared my 5 year old, but a trip onto the Cars ride soon helped him forget. He also loved Toy Story area, Slinky Dog being one of the faves for him, he's 5 years old.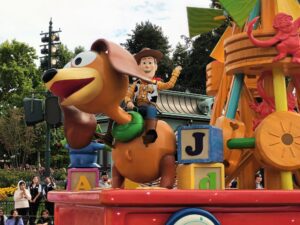 * My daughter and I choose to single ride on Crush's Coaster and then got parent swap for dad. Here they will not issue the parent swap pass unless the other adult is waiting at the exit, all others have just handed them over no question.
* Ratatouille was awesome, always love that one. We enjoyed the Frozen show, and got there to be right at the front of the queue. This did not guarantee a decent view as you get moved through several rooms and all shifted about. Nobody cares that you were there waiting and there can be a bit of shoving even with little ones. Good show, however a lot is in French. Although they do kind of relay the story across characters in both French and English.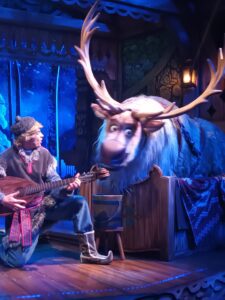 * We spent the late eve in Avengers Campus again and made the most of the shorter queues again by riding both rides several times. There was a moment where we had to be evacuated off of Flight Force! Be warned Web Slinger hurts your arms if ridden too many times 😄
---
---
Disneyland Park Top tips and highlights
Into Disneyland Park and our little man wanted to do Star Tours so we rushed in the direction of Discoveryland. Whilst there, we realised Buzz Lightyear Laser Blast was only 15 mins wait so we hopped on there first as we know this gets busy. Followed straight onto Star Tours with only a 10 min wait followed by Space Mountain for hubby and 10 year old and Autopia for little me and little man.
* Missed out on the Shine Bright parades as we were always quite busy fitting in all the rides we wanted. It's a Small World is currently closed for refurbishment.
* Big Thunder Mountain was next… or so we thought. After getting about 2 trains from front, and queuing about 45 mins the ride closed, we did however get fast passes to return and thoroughly enjoyed it. Probably our favourite attraction of the 2 parks.
* Pirates of the Caribbean was a little scary for the 5 year old, but it didn't make him cry like Tower of Terror!
* We grabbed some lunch from Cool Post by the steam boat. They had great chicken nuggets and turkey legs for a fair price and we sat and ate this queueing for the Lion King show.
* WOW! probably my absolute highlight. The Lion King show was awesome and well worth the queue. Kids were glued to their seats cheering and whooping along.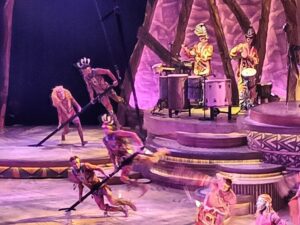 * Disney parade at 5.30pm was fun. It was the same show as 5 years ago but kids couldn't really remember so it was magical all the same.
* Peter Pan's Flight was our longest queue of the 2 days, sadly made longer by a ride breakdown, once again JUST before we were due to ride.
* we then crammed in some more Fantasyland rides before the lights show at 10.55pm. Autopia said a 5 min wait, but we kind of dibbed out and got put in the lane where they had started off loading the cars before closing and it took a fair while then to get on. If going last thing, they seem to remove the cars on the right hand side of the tracks as you sit into the cars to drive off.
*As everyone said the light show was awesome. We loved the 30th celebration drone section, 2nd bit again was pretty much same as 5 years ago but still pretty awesome and kids loved it.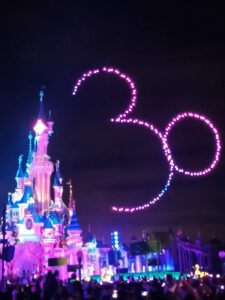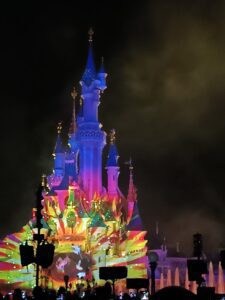 **** Best food of the trip – VAPIANO – good price and awesome food. It is situated just outside Disney Village (literally behind the Gaumont cinema) you leave the security check area beside the World of Disney shop and it's just out there. We all highly rated this and hubby said it was better than Pizza Express.
**** Best ride/show of the trip for each of our family : Daddy – Big Thunder Mountain, daughter (10) Flight Force, son (5) Web Slinger/Star Tours, Mummy Lion King/Space Mountain.
**** EXTRA TIPS – All vendors take card, however a fair few of them selling from mobile stores often crashed and were cash only, we had a few disappointed moments when ice cream could not be purchased.
The queues can get very hot, take a little compact umbrella for the shade. They generally move quite swiftly from sunny to shaded spots, but can still get super warm.
Water fountains are available at most toilets, but are tricky to fill water bottles up. The best one we found was just as you leave the Studios bunker and head Into the park, by the toilets on the left.
No issues taking food and drink in. If you like sodas or mineral water then these are €3.50 – €4 a bottle, so if you can purchase before going in, you could save a fortune.
Tax returns are easy to do, just keep receipts and if add up to €100.01 you can make a claim and goes back to your card. This is done in World Of Disney.
Popping into the Marvels New York Hotel on the Wed eve was awesome. The kids loved seeing all the costumes etc, and no-one questioned us going in there and were so welcoming.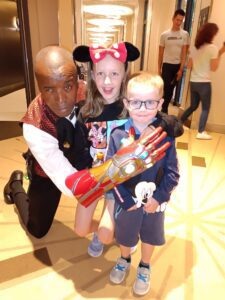 We Crammed so much into 2 days and were absolutely exhausted, but it is doable.
Paris also very easy taking the RER A in and RER M back. 5 euros for adult, 2.50 for children aged up to 11 I believe. They do not seem to offer a return, but pretty cheap anyhow for the distance you are on.

If your children are into some of the newer films, merchandise was not too readily available. For example Encanto and Moana have very little about, however the new Buzz has a fair bit.