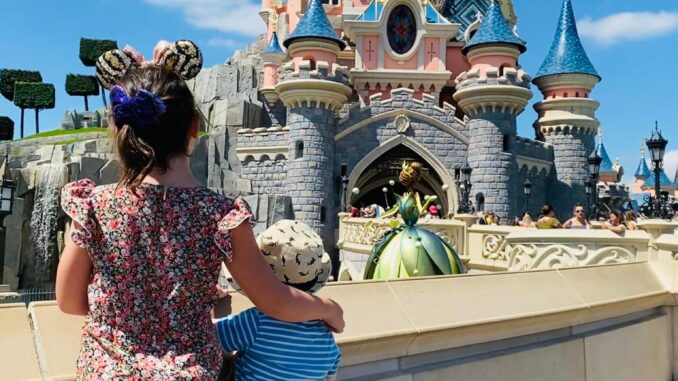 Suzanne – August 2022 Trip Report
First time family trip to Disneyland Paris
This was our first time visiting Disneyland Paris. We travelled by Eurostar and booked a package which included tickets for our whole stay at Disney Sequoia Lodge Hotel. We were there for 3 nights and 4 days. There was myself, my husband & our 2 children who are 2yrs & 7 yrs old.
We travelled directly on the Eurostar and wish we had done the same on the way back. On our return journey we transferred at Lille Europe. This probably would have been fine on the way out, but the local train to Lille was crazily busy. This made the return journey not as smooth or as enjoyable as the way out. Next time, I would still happily transfer, but I would rather do this on the way out when the magic and excitement is running high and, crucially, legs are not so tired!
When you first see the parks it is just the best feeling ever. It is simply Breath-taking and just a real WOW! moment.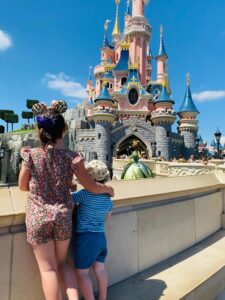 The Disneyland Hotel was looking great and the first sight of Sleeping Beauty castle is so perfect. We walked right into the Shine Brighter parade. Wow, this was sensational. The song lives with me now and it's just so happy and Disney!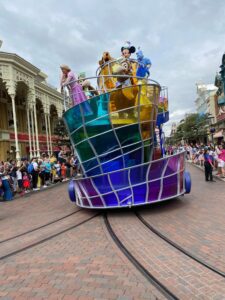 We then had reservations at Pym restaurant which had really good food and a suitable variety for all of us. We liked Pym's restaurant more than Downtown restaurant which was ok, but not as much for children in my opinion. The desserts were amazing though.
Sequioa Lodge Hotel
Each day we used our Extra Magic Time (A Disney perk given to hotel guests) and headed back to the hotel for a mid afternoon break. We used the swimming pool twice. The outdoor pool at Disney Sequoia Lodge was very welcome in the heat. Our 7 year old daughter absolutely loved the slide! The hotel itself I loved and pictures do not do it justice. The rooms are slightly dated and no USB etc but we were prepared with extension lead and travel adaptors.
We loved the atmosphere of this hotel and would definitely stay here again. We were lucky with the lake view from our room (photo below!) and there is a lovely decking area to sit out in the evenings. There is a free shuttle bus provided but we walked to the parks each day. It's a really nice 10 minute stroll through Disney Village to get to the parks.
Rides, Shows, Characters and Champagne!
Over the course of our stay we did every attraction we wanted to. We did miss out Crush's Coaster but none of us were that fussed and it gives a great reason to come back! Parent swap for one of us to stay with the 2 year old was great. You get a little ticket which you take straight to the premier access line so both adults can ride at different times and second one does not have to line up again.
The whole thing was probably a bit much for our youngest (heat, crowds, change of routine) but he still enjoyed himself. I wouldn't say there are many rides suited to this age but all children under 3 year olds are free entry so we didn't feel like we had wasted money and it's all about the atmosphere at their age. He loved Autopia, Storybook Land Canal Boats and Dumbo but other than that the fountains and the cranes fixing the hotel were his favourites. Autopia is pretty after 9pm and the line is relatively low after 9:30pm.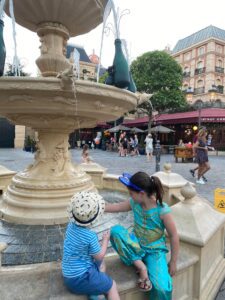 Our 7 year old loved all of the rides especially Big Thunder Mountain and thanks to parent swap, she rode 4 times in one day. We didn't arrive too early for parades or shows and saw everything we wanted to. Just to the right of the castle, beside Buzz Lightyear Laser Blast, is a quiet spot and we literally walked over just before the start. We watched the main parade from the curb outside city hall. We arrived 30 minutes before while I enjoyed a glass of champagne. There was plenty of space with no pushing.
Princesses and Magical Moments
Everyone we came across was polite and very helpful. Mickey and the Magician was a great show with so much space that we didn't feel the need to upgrade to a premier seat. Our 2 year old had a push chair but our 7 year old daughter walked everywhere. By the last day she was shattered as we were doing around 25,000 steps most days. Seeing as it was our first visit to Disneyland Paris, and not sure if we would return, we booked princess dining and character dinner at Auberge de Cendrillon as we wanted to get the full Disneyland Paris experience.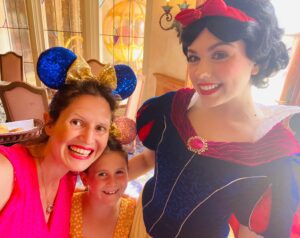 The Princesses were magical BUT it was very expensive and I maybe wouldn't do this again as there are lots of other opportunities to meet characters. You can use the Disneyland Paris Mobile App to check meet 'n' greet times and where they will be throughout the day. Princess lunch however was amazing and a great way to meet 4 Princesses without lining up at Princess Pavilion which can have a large queue. To save money it was just me and my daughter whilst the two boys went to explore Adventure Isle. Adventure Isle area is fabulous and a great way to hide from the heat.
We added on the Half Board meal plan to our package but felt it was too much food for us. It was useful for a first time visit until we knew what the other options were but I think we would just pay as you go next time. Yes, we are already looking at our next trip! I would definitely recommend to take water bottles as we refilled ours so much and only needed to buy one or two drinks in the park each day. Halloween looks perfect for our next trip.  Also, finally, we were so lucky to stumble upon Belle who took our daughters hand and walked around to the princess pavilion with her. Such a magical memory for her!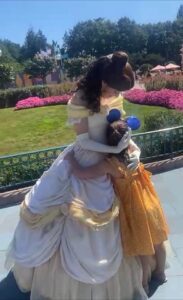 We also had great interaction with Winnie the Pooh and Pluto amongst other characters!
We can't wait to return
Well done if you made it this far! Any questions please let me know on the DLPtips Facebook group. Happy Disney! I am now addicted and will return soon. Next time I will probably have a Loungefly bag which I never saw any point in before… or actually even knew what they were. This was supposed to be an interim trip whilst we saved up for Disney World, Florida for my special birthday but Disneyland Paris was so magical. I am not even sure I feel the need to do Florida anymore and could easily spend those savings on 3 other trips to DLP instead of just one to Disney World.
My TOP TIP – if you head to the ice cream place opposite It's a Small World you will see princesses walking past as they head to the parades or to the Princess Pavilion. They never stop for photos etc but they do wave and say hello to guests.