James – August Disneyland Paris Trip Report
Disneyland Paris Trip Report Aug 2nd – 6th
We flew from Manchester to Paris CDG airport with minimal delays at security! An excellent start.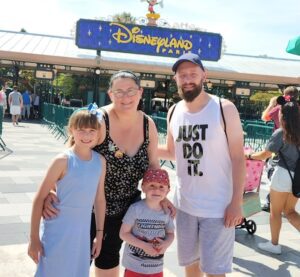 We stayed at Disney Sante Fe hotel and had booked connecting rooms as there were 5 of us. The hotel was lovely and perfect for our youngest child who loves Disney Cars. The rooms are of decent size with two double beds in each room. There is a ceiling fan in the rooms. My wife and I felt a bit warm during the nights but nothing you can't cope with.
There is a free shuttle bus to take you directly to the Park which only takes a couple of minutes and they run back and forth till 1am. The bus was usually busy, with some unnecessary pushing and shoving to get on the bus which was a bit irritating.
Plaza Gardens buffet Character Breakfast
Arriving to the Park was unbelievable. On the first full day we had booked a character breakfast at Plaza Gardens in Disneyland Park. Both our children loved meeting the characters including Pinocchio, Tigger, Captain Hook, Smee & Rabbit. The buffet breakfast is of good quality and lots of variety with both hot and cold food offerings. Our two children, who can be fussy, ate quite well.

Lots of rides and attractions!
The rides that we went on were great! We used premier access fast passes for some of the rides and the ones the children wanted to go on! The wait time for some of the rides were not too bad fromwhat we experienced. Our longest wait time in fact was about 45 minutes. It is better late in the evening as queue times can shorten to about 10-15 mins for certain rides.
Some of the rides we went on :
Disney Cars Road trip
Ratatouille
Buzz Lightyear Laser Blast
Big Thunder Mountain
Aladdin Flying carpets
Cars Race Rally
Slinky Dog
Toy Story Parachute Drop
Hyperspace mountain
Dumbo Flying Elephant

World Class shows
We booked two shows, the Lion King in Frontier land and Mickey and the Magician which is situated in Walt Disney studios. I'd advise to pre book these shows, just so your not waiting in line or missing out on the shows due to popularity. Both shows that we saw were absolutely unbelievable and are definitely worth it.
Night-time Fireworks
We went to see the fireworks and light show on both Thursday and Friday. This is definitely a highlight of the holiday. We got our spot to watch this from about 21:50 on both nights. We brought snacks and drinks whilst we waited. Blankets and jackets were needed too for the kids as it got a little chilly.
On the Thursday everyone sat to watch the display. Unfortunately, on the Friday, a few people were standing up in front and refused to sit down which was very irritating. We had to stand but we enjoyed it nevertheless.
We rented a buggy from the park for the week which was a god send. We also had the photo pass and the photos we got from them were brilliant. See you real soon Mickey!