Slinky Dog ZigZag Spin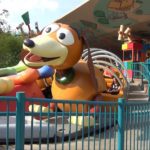 Slinky Dog ZigZag Spin is a family carousel ride situated in the Walt Disney Studios park at Disneyland Paris. This fun ride is suitable for all ages & is very popular with adults & kids alike. Slinky Dog is in the Toy Story Playland area & pays homage to the classic 1950's toy. In this version it even comes with it's own supersized cardboard box!
This is the perfect ride to take young children on as it has a great look & feel. Although it could be termed as a mini-rollercoaster, this is by far the tamest ride in the area.
As we are in toy Story Playland, this area of the park is themed to make you feel as if you have shrunk down to the size of a toy inside Andy's playroom. Slinky Dog is a perfect example of taking a fairly basic ride & turning it into a complete experience. From the moment you join the queue & walk through the kennel area you begin to see the cool building blocks which make up the queue area.
You then step inside the magnificent "collector's edition" cardboard box which Slinky Dog came from. The theming even gives us a massive retro-style board game printed on the inside of the box called "Slinky Dog Neighbourhood Romp!". You then jump on the back of Slinky Dog as he begins to chase his own tail. In the centre of the ride is his dog bowl filled with rubber bones & one of Andy's balls.
The ride only lasts around 90 seconds as you rise & dip on a small incline which is enough to give very young children a mild thrill.
---
Slinky Dog ZigZag Spin

As the ride is on a small incline it is best to take care with footing with very young children.

It is best for the biggest rider to sit on the left of each seat as you can sometimes feel a slight pull into the side and you don't want to squash the smaller ones!
---
Slinky Dog ZigZag Spin Video
---