Stitch Live!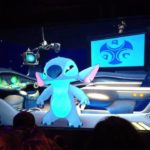 Stitch Live! is an interactive show situated in the Walt Disney Studios park at Disneyland Paris. This fun family show is guaranteed to have you laughing along with the children throughout the show.
With seating for up to 200 guests, this show is always a popular choice for visitors. There really is magic in the air as you find out that not only will you be seeing Stitch Live! on the big screen but he will be interacting and chatting with random kids & adults throughout the show.
The look on kids faces when Stitch seemingly looks out from the giant animated screen into the audience and picks a child out to talk to is purely magical. It's not only children that Stitch is interested in either as he also likes to have fun with unsuspecting adults in the audience too!
Sitch Live! The Great Escape
Stitch Live! is a gloriously unscripted, real time interaction between guests & an animated computer version of stitch on a giant cinema screen. The technology behind the show was actually created by Disney Imagineers in a ground breaking format which has since been rolled out to other attractions around the world. A fusion of digital puppetry & real time animation awaits.
The show is on multiple times per day in both French & English language. You can check the park guide for times and they are also displayed at the show entrance. As there is only seating capacity for 200 guests it is first come first served. You can see how many current guests are queuing by looking at the available seats on the digital display above the ride entrance.
The show begins in the queuing area where a large screen shows a simple cartoon with a countdown every minute. Guests are then taken through to the pre-show area where there is a small cartoon presentation on multiplpe screens before you are finally allowed in to the main screen area. Although there is seating available, children are encouraged to sit on the carpet right in front of the screen so that Stitch can get a good look at them!!
When the show begins we see Stitch aboard a (stolen) space cruiser & a Cast Member talks to him. As if by magic it appears that the animated Stitch on screen can hear and interact with the cast member. At first it looks as though this is just a well timed, well scripted show with a Cast Member talking to a pre-recorded cartoon show…… but then the magic happens as Stitch turns to the audience and begins interacting & having fun with them.
As the show is somewhat unscripted you can view this show again & again and be sure of a different experience each time. Stitch Live! at DLP lasts around 15 minutes.
---
Stitch Live! Tips

Keep an eye on the weather. This show fills up fast when it's raining as people search for indoor attractions.

The queue area is fairly minimal so try and time yourself so you arrive just before showtime….. but keep an eye on the audience levels so as not to miss out.

Make sure you get your kids to sit at the front. Not every child gets to interact with Stitch but the view will be much better from up front.

Stitch usually picks out an adult from the audience too. No tips here as it's totally random. If you get picked…… don't be shy and get involved. The kids love it when the adult get's picked..
---
Stitch Live! Video
---