New York Style Sandwiches Menu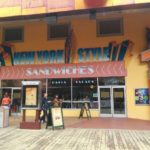 New York Style Sandwiches is located in the Disney Village at Disneyland Paris. This Manhattan styled Deli serves up a range of hot & cold menue items with favourites including Pizza, Subs, Baguettes, Salads & Paninis.
Inside you will find an array of Broadway Memobrabilia & mirrored walls. You can enjoy a quick service breakfast here before heading into the parks or stop by for an evening treat before heading back to your hotel.
The American menu on offer is sure to please everyone & the prices are very reasonable for a Disneyland Paris restaurant. If you are on a budget then why not share a pizza which is easily enough to feed 2 adults with a side of fries. There are also a variety of ice cream treats on offer & a range of hot & cold drinks.
New York Style Sandwiches Menu