La Cantina restaurant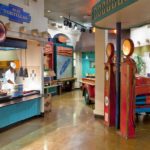 Disney's Hotel Santa Fe is the location of the Tex-Mex restaurant La Cantina.
As with all Disneyland Paris hotels there is a delicious Buffet breakfast complete with cheeses, toast, cereals, breads, deli meats & much more!
La Cantina has a glorious "Route 66" theming to compliment the Disney's Hotel Santa Fe. Everyone who rides Route 66 will know that stopping off for a bite to eat is essential so why not drop in for an evening meal? If you like Tex-Mex then you will love La Cantina restaurants All you can Eat buffet.
La Cantina Menu
---
La Cantina Menu