Buzz Lightyears Pizza Planet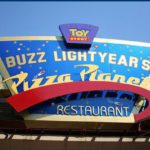 Unfortunately Buzz Lightyear's Pizza Planet is now CLOSED at Disneyland Paris and is being used as a canteen for the Cast members. It is currently not scheduled to re-open.
This is a great shame as it was a great place to have a buffet meal which was excellent value for money.
The restaurant featured a soft play area which kids loved & an all you can eat buffet featuring pizza, pasta and a nice selection of desserts.
For posterity we have included a video below to show you what it used to offer & in the vain hope that it may one day open again!
---
Buzz Lightyear's Pizza Planet Video
---