Planet Hollywood Menu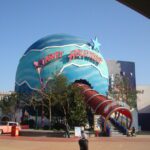 Planet Hollywood is located in the Disney Village at Disneyland Paris. You literally CANNOT miss the huge iconic dome shaped fixture! This Movie themed American restaurant is part of a highly recognisable chain of restaurants located throughout the world. They have an extensive menu & cater for dietary needs. The cocktail menu is delicious! Planet Hollywood is a large restaurant over 2 floors tall with a cocktail bar on the upper level alongside a seating area & a lower level for more diners.
Inside you will find a stunning display of Movie Memorabilia from some of the worlds top movie franchises such as The Terminator, Gremlins, The Titanic & much more. All of the items on display are authentic & you can have a selfie with a life-sized Rocky Balboa or a T-1000 version of Arnold Schwarzenegger!
The American menu on offer is sure to please everyone & the prices are very reasonable for a table service restaurant. Planet Hollywood also has it's very own merchandise area on the bottom floor selling a range of branded goods such as T-shirts, glasses etc. Check out the Planet Hollywood Menu below (2017 prices) :
Appetizers:
Bruschetta [Grilled garlic bread, crushed tomatoes marinated in olive oil and basil. Tomato aioli sauce]: 8,90€
World Famous Chicken Crunch [Breaded chicken filet. Mustard creole sauce – 4 pcs]: 8,90€
Potato Skins [Potatoes stocked with cheese and smoked breast, browned in the oven, accompanied with sour cream – 4 pcs]: 8,90€
BBQ Chicken Wontons [Crunchy pancakes covered with a mixture of chicken, caramelized onions, cheese spread and barbecue sauce – 5 piecce]: 8,90€
Buffalo Wings [Fried chicken wings and drumsticks coated with a spicy sauce – 6 pcs]: 8,90
Blackened Shrimp [Shrimps marinated and cooked with Cajun seasoning – 6 pcs]: 12,95€
Nachos – to share [Crunchy pancakes of corn, covered with cheese spread. Served with pico of gallo, guacamole and sour cream] : 9,90€
VIP Platter – to share [Assortment of Chicken crunch, Buffalo wings, BBQ chicken, Wontons and Bruschetta] – 19,50€
Soupe à l'oignon à la Françoise [Home-made onion soup, served with croutons and Emmental cheese] : 6,90€
Salads:
Chicken Caesar [Romaine lettuce, chicken, croutons and Parmesan cheese. Homemade Caesar sauce]: 16,50€
Cobb [Julienne of salad, tomatoes, cheese, boiled ham, smoked pork belly, avocado and hard-boiled egg. Homemade Russian sauce]: 16,50€
South-western [Julienne of salad, grilled chicken, corns, kidney beans, cheese and tomato. Homemade South-western sauce. Fried tortilla and peanut sauce] : 16,50€
Asian [Juliette of salad, grilled chicken, julienne of carrots, cabbages, zucchinis, broccolis, mangetout pea and roasted peanuts. Homemade Asian sauce]: 16,50€
Sandwiches and Burgers :
Cheeseburger [Pure beef burger, cheddar, salad, tomato, onion and pickle]: 16,90€
Mushroom, Onion & Swiss burger [Pure beef burger, Emmental cheese, mushroom, and sautéed onions]: 17,50€
BBQ Bacon Cheeseburger [Pure beef burger, bacon, cheddar and BBQ sauce]: 17,50€
Blue Cheese Burger [Pure beef burger, blue cheese]: 16,90€
Spicy Burger [Pure beef burger with cheddar, and grilled jalapeños]: 16,90€
Surf & Turf Burger [Pure beef burger, salad tomato, onion, pickles and shrimp dish with creole sauce]: 25,90€
Portobello Burger [Portobello mushroom with Emmental cheese]: 16,90€
American giant Hot Dog [Hot dog with grilled onion and pickles (150g)]: 15,50€
Philly Cheese Steak Sandwich [Beef sliver, sautéed onions, pepper and melted Emmental cheese]: 17,50€
Ham Club Sandwich [Boiled ham, bacon, Emmental cheese, tomatoes, salad and mayonnaise]: 15,50€
Chicken & Avocado Sandwich [Grilled chicken breast, Emmental cheese, fresh avocado, tomatoes, salad, and mayonnaise]: 17,50€
Pasta and noddles:
Penne, Chicken & Broccoli [Chicken, broccolis, Poulet, brocolis frais, homemade garlic and basil cream]: 17,50€
L.A. Lasagne [Fried fresh pasta, ricotta, mozzarella, parmesan cheese and Bolognese sauce, with garlic cream and tomato sauce. Homemade]: 17,95€
Penne Primavera [Mix of red peppers and green peppers, mushroom and zucchini, oven roasted, and sautéed with a homemade pesto sauce]: 16,90€
Spaghetti Bolognese [Homemade Bolognese sauce, parmesan cheese]: 16,50€
Spaghetti Pomodoro [Fresh tomatoes, sautéed in olive oil, with homemade tomato sauce]: 15,50€
Nouilles Kung Pao [Your choice of beef, chicken or shrimp (+2€), sautéed with Ramen noodle, peppers and onions in a spicy Kung Pao sauce (sesame) and peanut]: 17,95€
Grilled Specialities :
Rump Steak [200 g Rump steak VBF]: 23,90€
Ribeye Steak [Rib steak of beef (280g) VBF]: 26,90€
BBQ Pork Ribs [Grilled pork ribs (600g) with BBQ sauce]: 23,90€
Sizzling Fajitas [Your choice of beef, chicken or shrimp (+2€), with onions, peppers, guacamole, pico de gallo, sour cream and cheese, with tortilla and Mexican rice]: 23,90€
Teriyaki Salmon [Roasted salmon fillet, marinated in a teriyaki sauce]: 21,90€
Blackened Mahi-mahi [Tropical bream, marinated and cooked in a Cajun seasoning]: 22,90€
Bœuf Bourguignon [Beef stew in a red wine sauce. Homemade.]: 21,90€
Desserts and milk shakes :
Strawberry cheesecake [Cheesecake with strawberries and strawberry sauce. Homemade]: 6,50€
Banana Split [Fresh banana with vanilla ice-cream, chocolate and strawberry, whipped cream] : 7,50€
Chocolate Brownie [Homemade chocolate cake with vanilla ice-cream, whipped cream and caramel and chocolate sauce.]: 8,90€
White chocolate bread pudding [Homemade white chocolate Pudding, with whisky sauce and vanilla ice-cream]: 7,50€
Tarte tatin traditionnelle [Homemade caramelised apple tart, with vanilla ice-cream]: 7,50€
Sorbet [Lemon or raspberry]: 6,50€
Ice cream [Chocolate, white chocolate, vanilla or strawberry]: 6,00€
VIP Dessert – à partager [Cheesecake, White chocolate Bread Pudding et Chocolate brownie]: 18,90€
Milkshakes (20cl)
[Vanilla, chocolate, white chocolate, strawberry or banana]: 7,60€
[Speculoos or Oreos]: 8,60€
Drinks :
Expresso : 2,75€
Soda 33cl : 4,30€
Mineral water Vittel or Eau de Perrier : 4,20€
Fruits juice 30cl: 4,30€
Cocktail 30cl: 8,90€
Bottle beer 33cl : 6,90€
Draught beer : 7,50€
Glass of wine 15cl: 5,50€
Aniseed aperitif 6cl : 5,50€