Planet Hollywood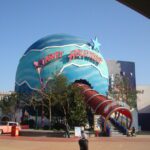 Planet Hollywood is located in Disney Village at Disneyland Paris. You literally CANNOT miss the huge iconic dome shaped fixture! This movie themed American table service restaurant is part of a highly recognisable chain of restaurants located throughout the world. They have an extensive menu & cater for dietary needs. The cocktail menu is delicious! The iconic Disney Village planetary theming includes a large restaurant over 2 floors tall with a cocktail bar on the upper level alongside a seating area and a lower level for more diners.
Inside you will find a stunning display of Movie Memorabilia from some of the worlds top movie franchises such as The Terminator, Gremlins, Dumb & Dumber, The Titanic & much more. All of the items on display are authentic & you can have a selfie with a life-sized Rocky Balboa or a T-800 version of Arnold Schwarzenegger!
The American menu on offer is sure to please everyone & the prices are very reasonable for a table service restaurant. Unfortunately you cannot book a table in advance but you can ask if there is space or how long a wait is likely to be. Tables turn around very quickly.. Guests can also buy unique merchandise on the bottom floor with a range of branded goods such as T-shirts, glasses and much more. Diners in the restaurant will be able to use their receipt which almost always includes a discount voucher for merchandise and a small gift for the children. Check out the Planet Hollywood Menu below & be sure to pop in during happy hour at least once during your visit!
---
Planet Hollywood Menu
Planet Hollywood Disneyland Paris Menu