Starbucks Disneyland Paris Menu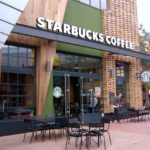 Disneyland Paris now has THREE Starbucks on its roster. The main Starbucks is located in Disney Village & was Europe's first ever eco-friendly café. In 2017 Disneyland Paris added further cafe's in Disney's Hotel Cheyenne & Disney's Hotel Santa Fe.
As you would expect from Starbucks you can get all your frothing goodness with a choice of Hot & cold drinks along with a snacks menu suiting all appetites.
We don't have a current menu to show you but we can tell you that prices are fairly standard (perhaps a tiny bit more expensive) than what you would be used to at your own local branch. They are very popular with many visitors who like to have a "real" coffee during their holiday!