Parkside Diner Menu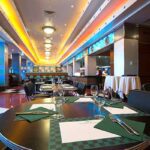 Welcome to our Parkside Diner Menu page. If you are looking for one of the most timeless American dining experiences then look no further!
Themed upon the classic 1930's American Diner you will be thrown back to an era where authentic U.S treats were invented & served to hungry Americans. This is a diner which will thrill both kids & adults alike with a huge variety of dishes to keep all pallets satisfied.
The restaurant offers buffet menus throughout the day starting with a breakfast to die for! Parkside Diner offers a huge selction of continental items such as pastries, cold meats, cereals, cheeses & also a range of hot foods such as eggs, bacon & sausages. In the evening you will be taken straight to the Good Ol' U.S of A with burgers (Try the "Build-a-Burger station"), hotdogs, pizza & a delicious Mac 'n' Cheese as well as more discerning dishes such as Roasted meats, Salads, Fish  & pastas. Of course, one thing you won't want to miss are the incredible range of desserts, so remember & leave room!
---
Parkside Diner Menu