Café Hyperion Menu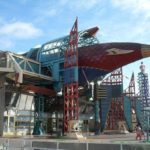 Café Hyperion is a counter service restaurant situated in the Discoveryland area at Disneyland Paris. This is the largest restaurant in the whole of Disneyland Paris & is very popular as a result! It adjoins the Videopolis theatre where you can watch movies, cartoons & also occasional Live Shows.
Serving a range of delicious burgers, salads, desserts & drinks you will love the atmosphere & a time to relax while the kids (or big kids) are occupied watching the huge screen or stage show. Café Hyperion now serves breakfast at peak times throughout the year with both a hot & cold option available. Cafe Hyperion has now begun serving specialist Star Wars themed items such as the BB8 Burger & is very popular with children!
The Hyperion Airship from the 1974 Disney movie "The Island at the Top of the World" is the main feature of the restaurant & the steam punk theme really gives it it's own presence in the area which is complimented perfectly alongside Space Mountain.
cafe Hyperion Menu

---
Café Hyperion Video