Beaver Creek Tavern & Hunters Grill Menu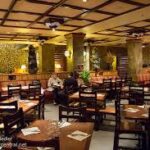 Situated in the Sequoia Lodge hotel are 2 lusciously rustic dining experiences. Enjoy a range of breakfasts, lunches, evening buffet & extensive drinks menu.
For the evening buffet there is an offering of "All You Can Eat" on foods typically inspired by North American hunting lodges. There lots of fresh meat, fish & salads to satisfy those hearty cravings.
The Beavers Creek Tavern also has an extensive selection of alcoholic & non-alcoholic drinks which can be very welcome after a day hunting in the Disneyland Parks!
---
Hunters Grill Beaver Creek Tavern Menu