Beaver Creek Tavern & Hunters Grill Menu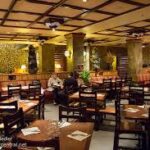 Situated in Disney's Sequoia Lodge hotel are 2 lusciously rustic dining experiences. Enjoy a range of breakfasts, lunches, evening buffet & extensive drinks menu.
For the evening buffet there is an offering of "All You Can Eat" on foods typically inspired by North American hunting lodges. You have the choice of a large selection of freshly cooked meat, fish & salads to satisfy those hearty cravings.
The Beavers Creek Tavern also has an extensive selection of alcoholic & non-alcoholic drinks which can be very welcome after a day hunting in the Disneyland Parks!
---
Hunters Grill Beaver Creek Tavern Menu