Manhattan Menu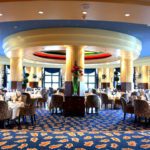 Located in Disneyland Paris' Hotel New York, you can have a stunning table service meal as if you were in Central Park itself. Featuring an International menu of the highest standard with booking recommended.
The Jazz infused atmosphere works brilliantly & you will love the sleek, contemporary design whilst believing you are a hot-shot city slicker!
We highly recommend the New York cheesecake for dessert. After all, what better way to finish off your Manhattan experience than with a taste of classic New York delights!
---
Please note : This is an old menu from around 2014/15 so prices may have risen very slightly. We are working on obtaining an up to date menu.
Manhattan Menu