Agrabah Cafe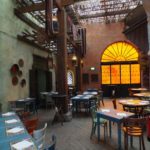 Agrabah café is an All You Can Eat Buffet restaurant situated in Adventureland in Disneyland Park.
They serve a mixture of mediteranean, middle eastern & African foods. Situated just yards away from Aladdin's Enchanted Passage at the entrance to Adventureland, this restaurant is full of character and charm.
Delicacies on offer include an authentic Mediterranean/middle eastern selection of salads, couscous, hummus, flatbreads, pasta, kebabs, lamb stews, potatoes & a wide variety of middle eastern desserts such as baklava, pecan pies & much much more.
---
Agrabah Café Menu
Agrabah Cafe Menu

---
Agrabah Cafe video