Disney Jr Live on Stage!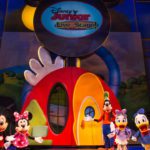 Disney Jr Live on Stage! is a family attraction situated in Walt Disney Studios Park at Disneyland Paris.
This is a great way to spend 25 minutes & let your kids see some great puppetry & special effects. The theatre show is based on the Disney Junior tv channel & features many characters. Visitors are invited to a birthday party which is being organised by the crew.
We get help organising the party along the way with characters including all our favourites such as Handy Manny, Little Einsteins, Winnie the Pooh & of course everyone from Mickey Mouse Clubhouse. Goofy, Mickey, Pluto, Minnie, Donald & more take to the stage.
Of course Disney Jr Live on Stage! is aimed towards young children but adults alike will enjoy the show & effects which are experienced. During the show we see puppets, sets, glitter & leaves falling from the sky & bubbles everywhere to give an interactive experience.
The show is shown up to 10 times per day with show times featured on the boards outside & on the park programmes. Each show is in a different language so choose which one you want from a choice of Spanish, French or English.
---
Disney Jr Live on Stage! Tips

The best views of the stage are at the front so queueing early may be advisable if you have very small children.

There are benches at the back of the room but everyone is encouraged to relive their childhood & sit on the floor directly in the centre of the room.

The atmosphere is very relaxed so don't worry if your child is noisy or starts to get very excited especially when the bubbles, glitter etc starts to fall from the sky!

Sing as clap along if no one was watching !
---
Disney Jr Live on Stage! Video