New dining experiences at Disneyland Paris
Last week saw a couple of new announcements regarding dining at Disneyland Paris. There are 2 changes which we thought were rather exciting concerning Fuente Del Oro & Plaza Gardens. Fuente Del Oro is a Mexican themed restaurant situated opposite Big Thunder Mountain in Frontierland of Disneyland Park. Plaza Gardens is one of the iconic buffet restaurants situated in prime position at the end of Main Street with some seating giving gorgeous views of the castle while you eat.
Fuente Del Oro Bar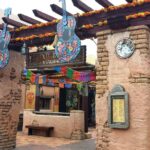 Now, you may be wondering why we have called this section Fuente Del Oro Bar & not restaurant? This is because the eatery has been reclassified & given a whole new snack based menu rather than the previous full restaurant menu. The new menu offerings has also led the way to Disneyland Paris using "Doritos" as a registered partner for the parks using only their top quality Nachos.
The theming remains the same & the food/drinks on offer are even more fitting to the décor. New menu items include delicious snack items such as Nachos with various toppings, Fresh vegetables in Salsa, Paprika Fries, Cheese stuffed Jalapenos & more. A large range of Ice Creams, Churros, hot/cold soft drinks & Draft beer are also available. An interesting addition to the drinks menu is you can now buy a refreshing Frozen Margarita in both an alcoholic & non-alcoholic serving. These will be sure to be very popular!
Plaza gardens Tea Time Menu
The news that Plaza Gardens are offering a new Tea Time Treats menu was received this week & we absolutely LOVE this new addition. Plaza Gardens is one of the most iconic Disneyland Paris restaurants with stunning theming inside & amazing views of the castle if you can can sit by the windows.
The price of the tea Time menu is also very attractive at only €11 per person which includes 5 deliciously quaint pastries & a hot drink of choice. Children can pay a lesser price of €8 for 3 pastries & a child's drink such as Orange or apple juice. The Tea time treats menu will be available every day between 3:30pm & 5:30pm.
We are sure that this will become very popular & hope to see this sort of "filler" menu added at various locations around the park. We thank Disney for choosing Plaza Gardens to start with & this will hopefully allow guests to see the gorgeous décor & theming inside Plaza Gardens who normally wouldn't choose to eat their evening buffet meal here. What do you think of the changes above? Let us know in the comments or visit our Facebook group to show your thoughts their.
Credits for pictures to ED92 & DLPreport on Twitter.