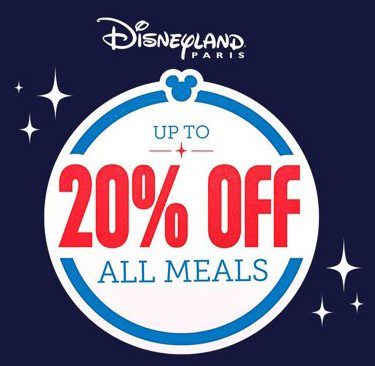 20% Off Dining Offer – Disneyland Paris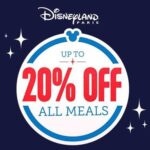 Is it time for you to book a trip to the magic? Well, book a Disneyland Paris package before October 12th 2021, for arrivals between 9th January & March 30th 2022  and Disney will sprinkle some pixie dust to your booking with the new Disneyland Paris 20% off dining offer.
Guests who book a package on these dates will be able to enjoy up to 20% OFF* meals (minimum €40 spend required) at selected Disney restaurants throughout the 2 Disney Parks, Disney hotels and Disney Village.
It's time you treated yourself to your dreams and enjoy incredible adventures with Mickey & Friends in Disneyland Paris. You deserve it! With the current Disneyland Paris booking offer you will be able to count down the days to living a life of magic in unique Disney Hotels & up to 20% discount on Disneylicious meals in wonderfully themed restaurants.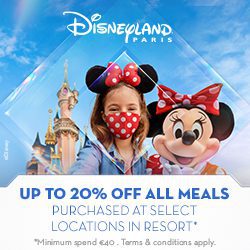 What's included in the Offer?
At check-in to your Disney Hotel you will be given 3 vouchers to enjoy your discount. Simply present your voucher to your server at one of the selected restaurants below and receive your discount on all food AND drinks! The discount varies on where you eat with 5% off quick service restaurants, 15% off at buffet restaurants and a jaw-dropping 20% off at table service restaurants. Check out the huge range of included Disney restaurants below and you can click on each one to see a full menu & description of each eatery.
Participating Restaurants
Quick Service Restaurants :
Buffet Restaurants

:
Table Service Restaurants

:
Best Price Guarantee
No more checking multiple travel agents as Disney have you covered. You can also rest assured that making any changes to your booking are quick & easy as you will be dealing with Disneyland Paris agents directly rather than through a 3rd party who often have extra fees and admin costs.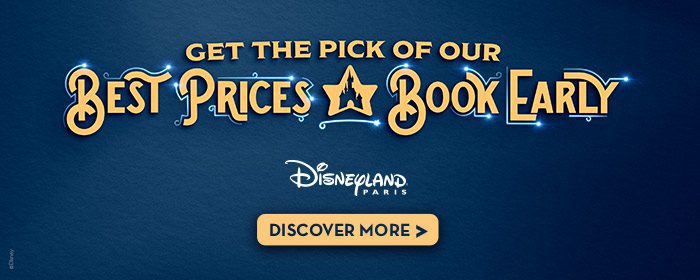 *

TERMS & CONDITIONS – 20% Off Dining Offer