Frozen Celebration Season 2020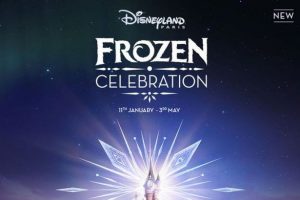 This week saw a big announcement from Disneyland Paris in the form of the new Frozen themed season heading to the parks in the new year. Disney are looking to capitalise on the hype surrounding Frozen 2 (in cinemas November 22nd 2019) by bringing the magic of Arendelle to life between January 11th until May 3rd inclusive.
This news won't come as a surprise to many but it won't stop us looking forward to the magical delights which we have come to expect from Disney. There will be a whole host of celebration events each & every day with Character meets, Parades, shows, sing-a-longs, unique snacks & of course fireworks!
Let's have a look at some of the experiences which will be on offer :
Frozen 2 : An Enchanted Journey
In Disneyland Park we look forward to a special parade bringing the magic & mystery of Frozen 2, the movie, to life in front of your eyes. There will of course be many of your favourite characters on parade such as Olaf, Sven, Anna, Elsa & Kristoff. The much loved characters will be joined by a group of Frozen themed dancers & acrobats plus a festive new float to admire!
Frozen : A Musical Invitation
In Walt Disney Studios park you can feel what it would be like to live in Arendelle!! Just head over to the newly opened "Animation Celebration" where there will be a sing-a-long with Kristoff & Sven! After that you can try to master Anna's dance moves & see Elsa in her ice palace. Perhaps you will even be fortunate enough to meet Olaf! This attraction will be open all year round beginning November 17th 2019.
Olaf Meet 'n' Greet
It can get chilly in the winter months in Disneyland Paris so why not warm up with some warm hugs from everyone's favourite snowman, Olaf! Again, this attraction will open on November 17th 2019 but will run throughout Frozen Celebration season too. Download the LINEBERTY app to book your spot at what promises to be a very popular Meet 'n' Greet.
Frozen Wonder Fireworks
Every night in Disneyland Park sees a marvellous fireworks & light projection show on the Sleeping Beauty castle. Of course, there is a segment of the show featuring the Frozen movie(s) & is sure to enthrall children & adults alike. Check out our Disney Illuminations page for full details of this breathtaking finale to the day.
Frozen themed Treats & merchandise
Disney always pull out the stops when it comes to themed snacks & merchandise. Of course, this new season will be no different with a large range of new cullinary delights & quirky treats to keep you going throughout the day. As well as the treats you can be sure that there will be a massive range of merchandise from mugs to cuddly toys to princess dresses which you can purchase in many locations in both parks.
Magic Over Lake Disney : The Frozen Edition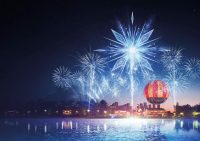 The highlight for many will be the brand new Lake show, which will not only be open to park guests, but to anyone visiting the Disney Village area. This spectacular new light & sound show will take place on select nights throughout Frozen Celebration season.
Promising to deliver on iconic moments from the Frozen movies & short films, we are truly looking at a fabulous showstopper!
Dates & times will be released in due course but this will make those Lake view rooms even more desirable for many guests!
Would you like to visit during Frozen Celebration?
The GOOD news for everone is that bookings are already open for the Frozen Celebration season! Anyone who loves the Frozen movies will want to be here during this special season & see the many new offerings Disneyland Paris has to offer.
The GREAT news is that if you book before October 1st you will receive Up to 25% OFF Hotel & Tickets PLUS FREE HALF BOARD!
Early bookers are usually able to lock in the best deals for Disneyland Paris with big reductions on prices but also have the best chance to secure the most sought after hotel rooms! We would highly recommend going for a lake view room at Newport Bay hotel if you would like to admire the Frozen Lake show form the comfort of your own room whilst enjoying a mug of hot cocoa. Bliss!