Rainforest Café: Top of the Food Chain
The Rainforest Café in Disneyland Paris' Disney Village is, in a sense, understated by its own name. This is no café, but then perhaps that makes no difference to its attractive nature. After all, you're greeted by an adorable elephant before you enter – though of course this is not who will be seating you.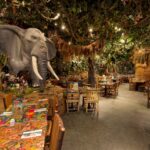 Beyond the gift shop inside, in which colourful animal props and lush vegetation begin to appear, and the vibrant blue archway-aquarium is a restaurant like no other. It's literally bursting with life, and this has very little to do with the hustle and bustle of its excited patrons. From the twisting roots of trees and other dense foliage that clad the walls and ceiling, hippos, zebras, elephants, giraffes and primates, for starters, emerge.
Some of these animals are inanimate, though no less fun to admire, while some of the elephants and primates are audio-animatronics. Every few minutes or so, they come to life; the elephants sounding their trunks in a panic, and the primates shaking and shrieking as a tropical thunderstorm suddenly erupts overhead (don't worry, there's no rain), which briefly darkness the restaurant before it's lit up again by flashes of lightning.
Sat in the middle of the restaurant are artificial fern-choked ruins which help add a sense of ancient mystery to it all. And in the far right corner as you first enter there's a gorgeous fountain in which there stands the statue of a man who's bearing the weight of a planetary structure that aptly reads: Save the Rainforest. And be sure to look out – though you won't miss them – for large butterflies, frogs, dragonflies and iguanas too, all of whom can be seen hugging the pillars.
But just when you thought the place could add no more authenticity, the staff are even appropriately sporting jungle attire. The service here is second to none; you're given plenty of time to not only scour the menu, but to absorb every last inch of the remarkable attention to detail of your environment. They're both warm and welcoming too, so don't be afraid to ask them anything during your experience. After all, they don't bite, and on this safari you're the one who'll be doing all the eating.
As for the menu, it's as rich as the ecosystem that inhabits this indoor oasis. From jungle-fresh fruit juices to "Sneaky Snakes" cocktails, and plump quinoa burgers to tiers of sizzling and mouth-watering make-your-own chicken or beef (or both) fajitas, there's something that will quench your thirst and satisfy your appetite whether you're vegan, veggie or carnivorous. There's also a delicious selection of desserts that you'll likely go bananas for, no matter how stuffed you might feel after your main course.
You might be as hungry as a lion when you arrive, your belly certainly won't rumble in this jungle.
This review was written by Dan Roberts. If you would like to read more then check out his blogs & soundcloud below :

Blog – https://curiousrookie.blogspot.co.uk/

Soundcloud – https://soundcloud.com/dan-roberts-142038842