Dragon under the Castle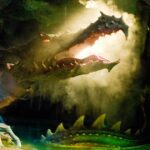 Disneyland Paris is the only Walt Disney theme park to feature a dragon under the castle attraction making it a popular stop for visitors. The dragon can be located by entering Fantasyland by the left hand entrance to the lower left of the Sleeping Beauty Castle.
The entrance signs read, in French, "La Taniere Du Dragon" & there is normally no wait times as this is a walkthrough attraction. The dragon can also be seen via a little known entrance via the glassware shop inside the castle itself.
The walkthrough consists of a dim tunnel area which is home to the captured Dragon who sleeps……… until disturbed by passers by! Once awoken the Dragon will growl, wave it's massive head looking at who has awoken it whilst puffing out smoke into the cavern before slowly resuming it's sleep.
The dragon is one of the largest ever animatronics created by Disney and measures 89 feet from head to tail. It is also one of the best animatronics & can fool children into believing it is a real dragon once it awakens. The walkthough only takes a minute or 2 but it is worth stopping to see the full display if it is asleep when you arrive……… but be careful….. it may be hungry!
---
Dragon under the Castle Tips

Taking photographs can be tricky in this area as it is very dimly lit so please be mindful not to ruin the experience for others by using flash or lights.

Due to the realism of the dragon it is advisable to be aware that very young children may become upset or scared!

You can visit this walkthrough at any time during the day as it is usually a straight walk in with no wait time.

Please don't feed the dragon!

---
Dragon under the Castle Video