Frontierland Railroad Station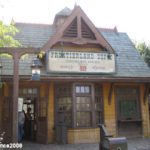 "All aboard!" the Disneyland Railroad as it arrives at the Frontierland Railroad Station. If you want to experience a real steam train locomotive then the Frontierland Railroad Station let's you alight the famous landmark train as it makes it's way around the outskirts of Disneyland Paris main park area.
There are 4 stations where you can hop on or hop off which are situated at Main Street, Frontierland, Fantasyland & finally Discoveryland Railroad Station. The trains run approximately every 15 minutes although this is entirely dependant on how many of the 4 trains are running.
Disneyland Railroad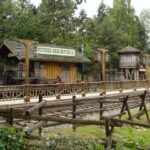 The train runs a single circular route starting at Main Street Station before heading through the "Grand Canyon" complete with animals & storm effects. It then stops at Frontierland Railroad station before taking you past the wild west & alongside Adventureland where you can see Indiana Jones & the Temple of Peril. After this the train makes it's 3rd stop as it passes alongside Fantasyland before heading onto Discoveryland Railroad station which is situated above Star Tours before completing it's circle back to Main Street U.S.A station.
The ride is an enjoyable experience which can transport you around different areas of the Disneyland Park with ease or perhaps you just want to experience a Steam powered locomotive in all it's beautiful glory.
Disneyland Railroad Tips

Main Street Station is always the most popular station and can sometimes expect wait times. Choose any of the other 3 for a quicker departure.

You don't need a ticket to board! Just go to the entrance and await the train.

When it's raining (or you are getting sore feet) the train can get you around the parks in a leisurely fashion

You can get on or get off at any station.

The entire loop takes around 30 minutes & is a great way to relax and see the parks from a new perspective