Art of Disney Animation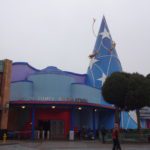 The Art of Disney Animation attraction at Disneyland Paris is situated in the Toon Studios area of Walt Disney Studios. The attraction is a walkthrough, followed by a cinema theatre show. We are taken through the ages to discover, not only the history of Walt Disney animation, but the history of ALL animation!
With a combination of theatre presentations, interactive exhibits, drawings, historical techniques & animation secrets we are shown how these magical creations which we know & love are brought to life on the screen.
The Art of Disney Animation attraction can take over 30 minutes to fully appreciate all the exhibits, sometimes longer. Kids absolutely love this attraction thanks to the interactive areas which allow (and teach) them to draw all their favourite characters such as Mickey Mouse himself. Adults will find the history fascinating too.
The final room can be entered without visiting the main attraction, allowing guests to return to view certain exhibits and take part in certain "animation stations" during their visit to the park. This is great if you love taking part in the interactive attractions in the final room but don't want to sit through the cinema production again.
The "Sorcerer's Hat" above the Art of Animation studios is an iconic part of the Walt Disney Studios. The characters of Peter Pan & Tinkerbell which can be seen flying around it were originally placed in California but were adopted by Disneyland Paris.
---
Art of Disney Animation Tips

This attraction is usually very low on queue times……. unless it's raining at which point everyone wants to visit!

You can see exclusive previews of upcoming Pixar & Disney animated movies
---
Art of Disney Animation video